What Is the 2019 Honda CR-V Maintenance Schedule?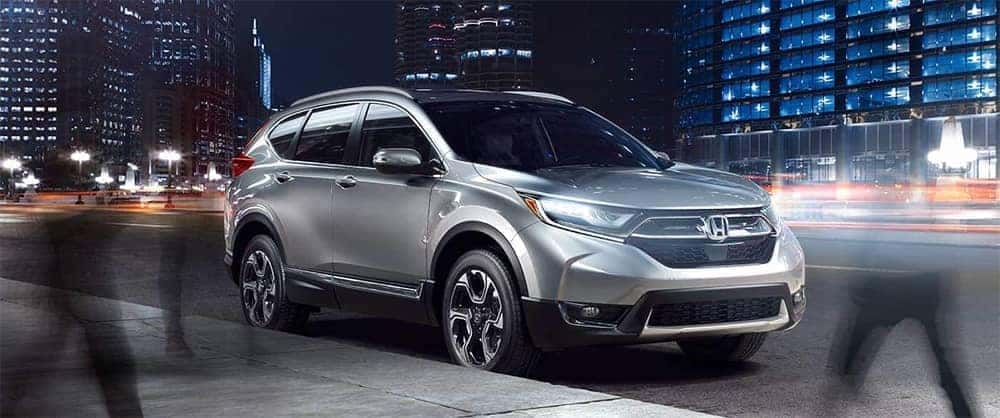 In order to keep your new Honda SUV running at its best on Portland roads, drivers should keep up with their Honda CR-V maintenance schedule. This schedule enables drivers to stay on top of recurring services or replacements to continue the excellent performance of the CR-V. Find out more about the Honda CR-V service schedule from the experts at Parker Johnstone's Wilsonville Honda.
Honda CR-V Service Schedule
The CR-V maintenance schedule may vary slightly depending on the trim level as well as how often you drive and where you drive. You may need to bring your vehicle in sooner than suggested if you use your vehicle for offroading or if you frequently encounter harsher weather and road conditions, so be sure to always refer back to your owner's manual to see what the manufacturer recommends. The Honda CR-V maintenance schedule is as follows:  7,500 – 22,500 – 37,500 – 52,500 – 67,500 – 82,500 miles
Check and replace fluids
Oil and filter change
Inspect tire treads
Check tire pressure
Rotate tires
Brake inspection
Lubricate throttle linkage
15,000 – 45,000 – 75,000 – 105,000 miles 
Lubrication of chassis and all hinges
Replace oil drain plug
Replace oil gasket
Replace windshield wipers
Replace spark plugs as needed
Rotate and balance wheels
Inspect undercarriage
Inspect shocks and struts
Inspect and adjust clutch pedal
Check A/C and heater operation
Replace Air Conditioning Filter
Service transmission
Inspect park brake
Re-torque drive shaft
Check lights for interior lamps and exterior lamps
Check steering systems, steering gear box, and steering wheel
Take on a road test
Check fuel systems
Check differential oil
Check brake linings and hoses
30,000 – 60,000 – 90,000 – 120,000 miles
Service PCV valve
Inspect fuel tank cap gasket, fuel lines, and connections
Service transmission
Service battery and clean cables
Replace differential oil
Inspect transfer case oil
Inspect air elements
Inspect all exterior and interior lamps
Lubricate propeller shaft
Lubricate wheel bearings
Propeller shaft flex coupling inspection
Check battery and clean terminals
Road test and quality control
Find Additional Honda Service at Parker Johnstone's Wilsonville Honda
Now that you know how to keep track of your Honda CR-V service schedule, make your way over to Parker Johnstone's Wilsonville Honda where our service and parts department will take care of any repairs, replacements, or installations you need and have you back on the road in no time. You can learn more about the Honda CR-V safety ratings, and save even more on essential Honda maintenance with our service and parts specials. Contact us today to schedule an appointment near West Linn!