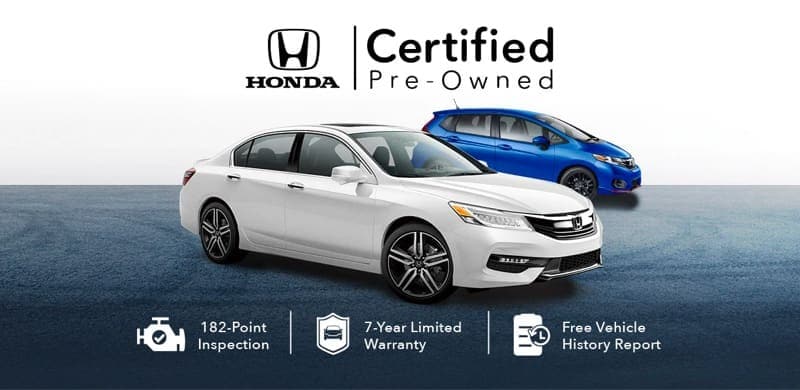 Certified Pre-Owned
Nothing compares to the quality of a Honda. No other program comes close.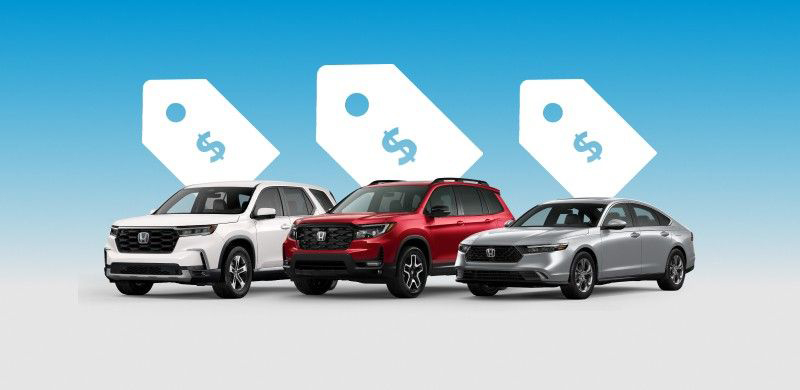 Current Offers
See this month's featured current offers going on now on new Honda vehicles.
Our Reviews
Anthony and Taylor made the car buying experience great. They treated me with respect and never made me feel pressured or have any negative feeling toward the deal. Often times when trading in a vehicle the sales team will attempt to convince you that you're trading in garbage. Anthony and Taylor were very much not into doing that. I felt they valued my trade in fairly and made me feel that everyone was waking away with a great deal. Even when Taylor informed me that my sunroof didn't open (which I didn't know). It was an experience that will encourage me to tell friends and family to make their next purchase at this dealership. Thank you.
I enjoyed how easy Cameron made our buying process. I will definitely be back for future purchases. Thank you!
Very easy and no pressure sales. The first sale went so well decided to buy another!
I shopped at half a dozen dealerships around the greater Portland/Vancouver area, and I'm so grateful I won't have to do that again - Parker Johnstone's Wilsonville Honda is the only one that I will shop at, no question. Even in this tight car market, everyone I spoke to was friendly, helpful, knowledgeable, professional, and courteous. Rainer Jonas was an absolute DREAM to work with as a salesperson. Knowledgeable, realistic, responsive, and just a pleasure to get to know. I really felt like he was my advocate, and had my back the whole time I was in the hunt for the elusive CR-V Hybrid. When one arrived that hadn't been spoken for, Rainer was on it immediately and snagged it for me. I truly enjoyed every minute of the car buying experience. Sales Manager (former Finance Manager) Matt O'Neal was also incredibly patient, helpful, and resourceful in getting me financed when my own credit union let me down (I haven't bought a car in 18 years so they assumed I never had - Hondas last forever if you take care of them, what can I say???). It took longer than they expected, but I got a rate and loan terms that were better than I could have imagined. I am actually looking forward to driving from the east side of Portland to go to their service department, too. Everything is bright, airy, and pleasant - no horrible chemical smell like I've experienced at several other dealerships in the area. The attitude and demeanor of every single person I saw there was friendly and helpful across the board - and THAT is the kind of business that I will support every time. Thank you again, Rainer, Matt, and all of Wilsonville Honda!
Excellent salespeople, no pressure. Worked to get us where we felt comfortable financially with a vehicle we loved. Efficient and very nice.
Excellent service - It was well worth the drive from Hillsboro to purchase her car and also to have it serviced. We are thrilled with Wilsonville Honda
We'd give more stars if we could. After a bad experience at another dealership it was refreshing to get honest answers to all our questions up front. Cameron Rahe was delightful to work with and the whole experience was very pleasant.
I had the pleasure of trading in my 2019 Honda Civic for a newer 2022 Civic, and Anastasia made the entire process so smooth! She made what would usually be a stressful financial decision so much simpler and she made sure that I understood everything about the decision before finalizing. She went above and beyond by ensuring that I'd receive any additional prorated purchases that I made on my 2019 Civic before trading it in, which is something I'd never even heard of. I'm very grateful I had the opportunity to work with Anastasia and this dealership, and I couldn't be happier with my new car. Thanks again guys!!
Great dealership. Unique and diverse team capable of making dreams come true. I will always recommend them to folks I know.
Rj made this stressful situation so relaxing and peaceful I almost forgot how much I was spending on a vehicle! So grateful for an employee who explained everything in detail and took his time ! HIGHLY RECOMMEND RAINER!
The attention to detail that Cameron and Ana provided me was incredible. They knew my lease end was coming up and were proactive in securing a new model for me as soon as they knew it was arriving, a difficult task in this demanding market. The process of turning in my vehicle and getting my new vehicle was seamless and quick. Truly a very positive experience! I won't go anywhere else!
Rainer was awesome to work with! We will absolutely be back when the time comes.
I felt very heard in terms of what I wanted and was treated well! Anthony Clutch was truly wonderful to work with and never once did I feel like I couldn't trust him!
Great sales and service team. They always take care of all our needs quickly and efficiently. Would recommend to anyone.
Anthony C. made our buying experience second to none! He actively listened to us, worked with us on our budget and also added cool features to our car before we left the lot. One day, I hope the standard salesperson is like Anthony- we'll be customers whenever he is!
Pleasant experience working with Taylor. She is professional and courteous with her customers. If I was buying another car I will definitely request Taylor for the purchaseof our next car. We will definitely recommend Taylor to our friends and family.
No haggling here! Saves time and energy. We buy our cars here ... for the last 16 yrs ... 3 or 4 now
Anthony made the whole experience very easy as usual. I think this is the 6th car I have bought there in recent years - always a smooth and hassle free process. Such a contrast from other dealerships! I got great trade in value for my CR-V and drove off in a beautiful brand new one in a few short hours. I'd recommend Wilsonville Honda to anyone!
We had an excellent experience with our sales person, Anastasia Rahe. She was very helpful throughout the process and a good communicator. My wife and I left pleased with our purchase.
Wonderful sales representatives along with no pressure tactics. No hidden agendas or fees, we appreciate the up front and honest numbers. Will be back again!!!
My wife and I are always nervous of car salesmen and being taken advantage of, but this place felt different - it was calm and felt relaxed and safe. We worked with Anthony and he wasn't high pressure or salesy at all, just a nice, chill guy. One thing we really appreciated what that this dealership works on their cars before they sell them - they could tell us exactly what they'd checked and worked on when we bought our car, which we didn't expect with a used car. We had a couple of questions about the papers we were signing, and they treated all our concerns respectfully and didn't rush us, even though it was later in the evening by the time we finished. 10/10 for both the dealership and Anthony - we'll definitely be back 🙂 As long as our car doesn't turn out to be a transformer or something, anyway. 😛
Low pressure approach, super helpful and always have the right information. Seamless purchasing process and the nicest people.
Provide excellent customer service with a smile. Great job, friendly and fast. Went beyond the basics.
Beat dealership ever. If you're looking for honest, straightforward, friendly and fair pricing, this is the dealership for you. I visited multiple dealerships before coming to Wilsonville Honda and many were jacking prices up above MSRP and taking advantage of the supply chain situation we all find ourselves in. I will buy all my vehicles here in the future. Rainer was awesome to work with!
Rainer is the man! He has a low pressure approach, gives solid information to make good decisions, and is the ONLY reason why I went with a new Honda CR-V Hybrid over competitors.

Welcome to Parker Johnstone's Wilsonville Honda
Parker Johnstone's Wilsonville Honda is proud to be your friendly, locally-owned Wilsonville car dealership. As a certified Honda dealer, we are open for business and ready to serve your car shopping, finance, and repair needs. We are able to provide flexible service both in-person and online, with service pick-up and delivery as well as vehicle purchase home delivery available. Check out our reviews, and you'll see there is a reason we've won multiple Dealer of the Year awards as well as Honda's prestigious President's Award for the last six years in a row. If you're looking for Portland Honda dealers with an expert service department, come see our professionals who know Honda models inside and out. Our Honda dealership is proud to serve drivers from every corner of Oregon, from Wilsonville, Tigard, Tualatin, and Lake Oswego to West Linn, Sherwood, Oregon City, Canby, and many more communities in the greater Portland area.
Stop by and see us anytime to check out our new and used cars in person, or unlock our best price on any car online. All of our cars are parked inside and under cover, so you won't have to worry about them sitting out in the sun, rain, sleet, or snow, and being damaged by the elements. They are guaranteed to be in mint condition, whether you're looking for a new 2020 Honda Civic, or certified pre-owned Honda CR-V.
We are located right off Interstate-5, off exit 283, at 30600 S.W. Parkway Avenue, in Wilsonville, Oregon, 97070. You can also reach us by calling sales new at (503) 487-0081, sales pre-owned at (503) 487-0089, service at (503) 487-0134, or (503) 766-5971.
Get Directions To Parker Johnstone's Wilsonville Honda