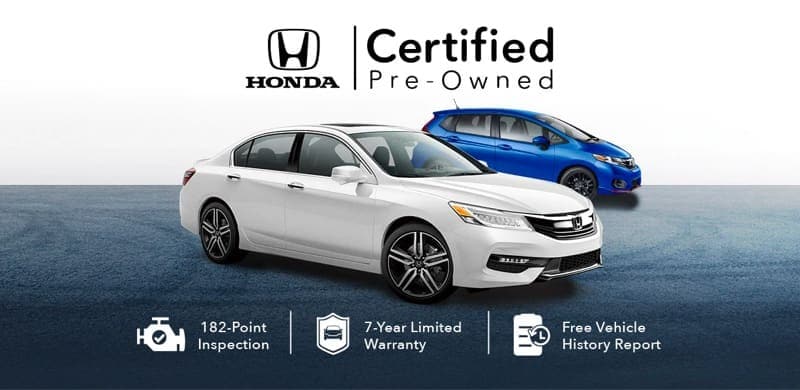 Certified Pre-Owned
Nothing compares to the quality of a Honda. No other program comes close.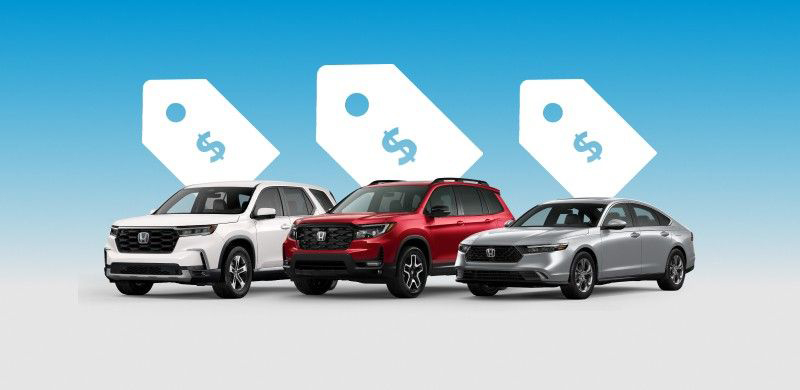 Current Offers
See this month's featured current offers going on now on new Honda vehicles.
Our Reviews
Great experience! Helpful salespeople, clear process and communication, great car, fair price. Everything was smooth and easy to follow. Ask for Anastasia or Taylor, they're great!
She's energetic, knowledgeable, and helpful! So glad we had her to help us with our new purchase!
We owe a big thank you to Kristina and the wonderful people in the service and detail shop. We were referred to them from a local auto body shop after our truck had some (minor, but definitely still there) flood damage in the rear floor of the cab. Thanks to Wilsonville Honda our almost brand new truck is back to us in perfect shape. Even though our insurance was dragging on this issue, the shop immediately took everything out to cab down to the frame, mitigating more damage. They did all electrical checks (multiple times) and we thankfully didn't have any issues. Our adjuster who came to see the car was very impressed with how they handled the situation. On top of that we were even given a courtesy car while ours was in the shop. Kristina was so helpful and always kept us informed (and calmed my panicking). I've always been a "never go to the dealership for service" kind of person, but I've been proven wrong after this. Thank you to all the people at Wilsonville Honda. You guys did a fantastic job!
This was one of the most pleasant and great buying experiences ever to go thru!
Easy salesperson (Taylor) to deal with. Entire transaction done online and outdoors.
Best service and transparency of all Hondas visited. Shout out to Kylor and Josh for the amazing help and company! Made the whole process effortless.
There was no pressure to purchase. Everything was in writing and explained to us. Would recommend to anyone needing a car.
Really excellent experience dealing with Cameron and the whole Wilsonville Honda dealership. Communication was excellent and the process could not have gone smoother.
Greatest experience buying a new car with very nice employees from start till title signing.
Friendly and helpful service. I was traveling from out of town to purchase the vehicle and it went seamlessly.
We found the car we wanted on Cars.com and sent an email via the site to the dealer. Gaylen contacted us back within a few minutes with the details we asked for and we set up an appointment the next day. The drive to get there was an hour for us, but it was well worth the effort. I've never purchased straight from a dealer, I had always used an auto broker. Gaylen made the experience a very positive one. From her own anecdotes about the car we where buying to the low pressure discussions and just generally supportive attitude, it was down right enjoyable. They gave us a very fair price for our trade in and discussed add on options with no pressure. Gaylen and the team provided me with the best first dealer experience I could have hoped for and would recommend her highly to anyone in the market. Even after the pruchase Gaylen followed up with some "how to" videos on dealing with some of the new features in our car. Thank you, Carl Wiese
Great team always friendly and helpful. We day and Larry in management Anastasia in sales I am only buying a car from her or Anthony. Great people in service Steve that always welcomes me by my name and a smile Kristina and Brandon at the desk always payient
very clean environment, responsive sales team, efficient finance team. overall what i expected. in and out with a new vehicle in about 2 hours
Up front with no pressure or "sales talk." We also appreciated the fact that the price was not above MSRP.
this is the third pilot i've purchased and i kid you not it took me two hours from start to finish. TWO HOURS. is that a record?
We were in the market for a new Honda Insight and saw that Wilsonville Honda had the one we wanted on the lot. I called Galen Cashman to schedule a test drive, and she verified that the car was available and on the lot. The next day we got to the dealership and worked with Anthony Crutch from start to finish (aside from the meeting with Jim the finance guy). Anthony was friendly and answered all of our questions, explained the car's features, and set us up for a self-guided test drive. After deciding to buy the car we met with Jim, and he presented various add-on packages but without any hard sell, so that part was done quickly. An overall pleasant car buying experience. We would certainly shop at Wilsonville Honda again if we need another car.
We were looking for a CR-V Hybrid in Southern Oregon. I ended up calling other dealerships in Oregon and none of them had one in stock and were at least a month in getting one and then they were going to add dealer markup. When I called Parker Johnstone's Wilsonville Honda, Taylor Reeves told me that they had two in stock (no dealer markup) and she walked me through the steps of purchasing a car from 250 miles away. All it took was an email exchange and it was the easiest and most pleasant car buying experience that I ever had. On top of that, Honda Financing beat our local credit union's interest rate. Upon arrival the next day, Taylor took the time to help program the CR-V and show us all the bells and whistles and even contacted us late to see how the drive home went.
We recently purchased a new car with the help of Cameron. He did a great job of explaining the different models of the 2021 Passport so we were able to choose the right one for us. He was patient, knowledgeable and we felt he was really trying to help us not just make a sale. We highly recommend Cameron if you are looking for a Honda. Great salesman!
Thank you again for your help! I appreciate your wonderful service for our fifth car!
Very responsive. Straight forward on pricing and details, efficient, and delivered my car earlier than expected!
I have been scheduling regular maintenance for my 2012 Honda Civic at Wilsonville Honda for many years now. They have always been good to me during every visit. Recently, something tragic happened to my vehicle and Wilsonville Honda went above and beyond to resolve it. On August 12, 2021, I brought in my car for a routine oil change. Nothing out of the ordinary happened, and I drove the car for many weeks & miles. On September 8, 2021, I was on my way to Salem for my morning work commute from Wilsonville. I noticed the "Check Engine Oil Level" light pop up on my dash. Minutes later, I noticed my vehicle's ability to accelerate begun to degrade. I had to press down the gas pedal harder to accelerate. I used my phone GPS and route myself to the nearest authorized Honda service center, which was Salem Honda. The vehicle's acceleration began to continuously degrade. As I made my way into the driveway entrance of Salem Honda, the engine finally shut down and was unable to start. My car stalled literally only a couple hundred feet away from Honda of Salem service center. Honda of Salem informed me that since I didn't have a scheduled appointment, they will get my vehicle inspected ASAP. However there was a $140 inspection fee applicable - of course I had no choice and accepted my fate. A few hours later, Honda of Salem told me that my engine was done. Apparently there was no engine oil left in the engine, and it burned up. I told them I just recently changed my oil only a few weeks ago at Wilsonville Honda. Salem Honda reached out to Wilsonville Honda and verified this information. A few minutes later, Salem Honda service rep told me that Wilsonville Honda will be covering the expenses of the $140 inspection and they will covering the cost to tow my vehicle back to Wilsonville Honda for further inspection. At that time, I called for an Uber to get myself to work. And had my wife pick me up at the end of my work shift in Salem. My wife and I were extremely nervous as we were not planning on purchasing a new vehicle (since engine costs are easily thousands of dollars to service). The next day, I visited Wilsonville Honda for an update. They told me that there must have been a nut/bolt not screwed on tight enough during my last oil change. Over time, the vibration must have loosen the nut/bolt to a point it finally fell off, and the drain plug came off, emptying all the engine oil onto the freeway to a point the engine shut down. To my amazement and disbelief, Wilsonville Honda said they will cover all the expenses to repair my vehicle with a new engine, covering all parts & labor. In addition, they provided me with a complimentary loaner vehicle so I can continue to commute to work while my vehicle was in the repair shop for a week. I received my repaired vehicle a few days ago and it has been running top-notch since then. Without a doubt, I will make all my future car purchases with them! THANK YOU WILSONVILLE HONDA!
Gaylen was so helpful. Everyone we worked with was so kind and patient. We will try to buy all of our cars from here from now on.
Surprisingly enjoyable and low to zero pressure. Actually zero since I was a bit anxious about such a significant purchase. I think Anthony was the perfect person for me to transact with. Very happy all around
Easy, painless experience. Katrina is an excellent salesperson & easy to work with!
Very pleasant and quick process to buy my new car. With tight inventory, they didn't try to gouge me. Financing was fast and easy to work through.

Welcome to Parker Johnstone's Wilsonville Honda
Parker Johnstone's Wilsonville Honda is proud to be your friendly, locally-owned Wilsonville car dealership. As a certified Honda dealer, we are open for business and ready to serve your car shopping, finance, and repair needs. We are able to provide flexible service both in-person and online, with service pick-up and delivery as well as vehicle purchase home delivery available. Check out our reviews, and you'll see there is a reason we've won multiple Dealer of the Year awards as well as Honda's prestigious President's Award for the last six years in a row. If you're looking for Portland Honda dealers with an expert service department, come see our professionals who know Honda models inside and out. Our Honda dealership is proud to serve drivers from every corner of Oregon, from Wilsonville, Tigard, Tualatin, and Lake Oswego to West Linn, Sherwood, Oregon City, Canby, and many more communities in the greater Portland area.
Stop by and see us anytime to check out our new and used cars in person, or unlock our best price on any car online. All of our cars are parked inside and under cover, so you won't have to worry about them sitting out in the sun, rain, sleet, or snow, and being damaged by the elements. They are guaranteed to be in mint condition, whether you're looking for a new 2020 Honda Civic, or certified pre-owned Honda CR-V.
We are located right off Interstate-5, off exit 283, at 30600 S.W. Parkway Avenue, in Wilsonville, Oregon, 97070. You can also reach us by calling sales new at (503) 487-0081, sales pre-owned at (503) 487-0089, service at (503) 487-0134, or (503) 766-5971.
Get Directions To Parker Johnstone's Wilsonville Honda